Student Employment & Work-Study
Handle the everyday workings of the SFS Dean's Office from your seat at its front desk, tutor Spanish-speaking students in English through the D.C. Schools Project, or solicit donations from beloved alumni – all while helping to support your education at Georgetown.
Learn About Federal Work-Study
If you wish to work part-time during the academic year or full-time during the summer, you can obtain employment through the Georgetown University Student Employment Office (SEO). Georgetown participates in the Federal Work-Study (FWS) Program. Georgetown also offers an Employment Referral Service (ERS) for students seeking on and off-campus employment who want to work but are not eligible for need-based Federal Work-Study funding. 
The Student Employment Handbook provides a comprehensive guide to employment processes and policies for students.
For employment opportunities, please visit the GU Student Employment Office website.
Learn The Basics of Federal Work-Study (FWS)
FWS is a financial aid program that allows students to work on-campus or with approved off-campus community service organizations in order to earn money to help pay for educational expenses and gain work experience. A portion of your earnings is paid for by federal funding that is awarded to Georgetown each year. The FWS Program was created to make it easier for eligible students to find a part-time job.
You are automatically considered for FWS when you complete the FAFSA and, if eligible, it will be included in your financial aid award. If you have planned to meet your expenses in other ways, you may choose to reject your FWS award or earn less than the amount offered to you.
If you have been awarded FWS, visit the Student Employment Office website to view and apply for jobs. Typically, students work between ten and fifteen hours per week to earn the full amount of their FWS award. You can work with your employer to find a schedule that works best for you. You will receive bi-weekly paychecks for the amount earned during each two-week pay period.
Looking for a Job?
You can get started on your job search using HoyaWorks! which enables you to specify if you are interested in an on or off-campus job. Most jobs are posted a few weeks before the beginning of the fall semester but check back often as new jobs are posted throughout the year.
What to Know Before Starting Work
Be sure you have original, acceptable documents to show proof of your employment eligibility and to complete Form I-9. Although this process varies by place of employment, many on-campus employers have their student employees complete the I-9 through the Georgetown I-9 Office.
Most Georgetown student employees log their hours worked weekly in the Georgetown Management System (GMS), where the hours are approved by the student's manager. Student employees – both work-study and non-work-study, will receive bi-weekly paychecks. We strongly encourage students to sign-up for direct deposit through GMS.
For more information, review the Student Employment Office's information for new hires.
Meet Successful Student Employees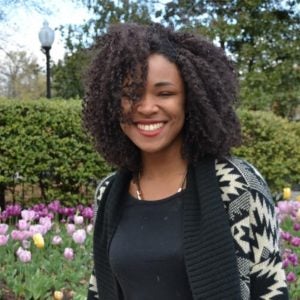 Symone Wilson (COL '19): Clerical Assistant, Georgetown University Biology Department
As a clerical assistant, my typical duties include logging packages, sorting mail, making copies of files, setting up for department seminars, answering the phone, and organizing supplies for the department. Additionally, I help out with administrative tasks such as keeping track of the lab coats that we use in the department. My favorite part of the job is when I set up for seminars. People are often really nice and will give me some of the food that was leftover from the seminar to share with my colleagues.
One of the ways I think that this job has influenced me is that I've learned the value of order and organization. Now when I look at internships and other jobs I find myself looking to see whether the job or internship prizes those two qualities.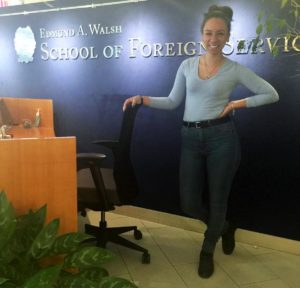 Aubrey Wetzelberg (COL '19): Student Office Assistant, School of Foreign Service Dean's Office
In my first two months at the SFS Dean's Office, I have been designing a newsletter and resource website for SFS faculty. I also help with moving a lot of the files and information on faculty that they have in the office to a digital database. My favorite part is helping with the events they put on for the faculty and sometimes graduate students, where I have the opportunity to come into contact with a lot of professors and influential people in the SFS whom I would not otherwise have the opportunity to meet.
My position in the Dean's Office allows me to get more out of my classes through being in closer contact with the SFS deans and faculty, and see a lot more of their publications through my work than average students might without extensively researching a given faculty member on their own.
Henry Yang (COL '19): Corp Member, Jumpstart
Every weekday, I either formally engage two- to five-year-olds in a local elementary school in a preplanned lesson or act as a teacher aid for a local daycare. For the preplanned lessons, I read to my reading group, sing educational songs with them to increase their vocabulary, and engage children in varying activities in multiple subjects, ranging from art to science. When I act as a class aid at a local daycare, I typically keep the children under check as a second teacher whenever the teachers are overloaded with too many children.
My favorite part of the job is most definitely interacting with the children. Children are the funniest people, and I often find myself bursting out laughing due to the things they say to us. I go to every session with a team, and we are all required to wear the same red Jumpstart t-shirt and blue jeans, and once a child asked us if we were all the same family.
This job has certainly affirmed my desire to work in pediatric health. The smiles that I get from the children give me the patience and drive to pursue my future goals.